The Council's response to the climate crisis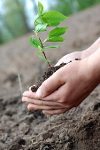 Gosport Borough Council's approach to tackling climate change is defined by its
Climate Change Strategy
. The Strategy sets three aspirations and we're
reporting on emissions
to track our progress in achieving these.
To be carbon neutral for the Council's own operations (scope 1 and 2) by 2050.
For emissions of greenhouse gases across Gosport (scope 1 and 2) to reach net-zero by 2050.
For Gosport to be as resilient as possible to the impacts of climate change.
The Strategy defines the priority areas that the Council will address in support of these aspirations, and the key aims and ambitions in each priority area. An action plan (PDF) [3MB] (opens new window) sets out specific measures that the Council will take to work towards meeting the aims and ambitions. Actions taken so far include:
establishing the Gosport Climate Change Partnership, bringing together a wide range of stakeholders to drive and coordinate the Borough's collective response to the climate crisis;
switching to a renewable electricity supply for our operational buildings and social housing;
ramping up our rate of tree planting - since 11th September 2019, when we pledged to plant 1000 trees in 1000 days, we've already achieved more than twice this target;
promoting free insulation and solar panels to Gosport residents;
helping communities across Gosport to take part in the Greening Campaign and work together to become more sustainable.
We're also working on installing solar panels at the Leisure Centre, using electric vehicles in our fleet, and introducing policies to reduce emissions and adapt to climate change into the next Local Plan, among other measures.
In recognition of the importance of addressing climate change, and the fact that actions are needed across all areas of the Council, a Climate Change Board has now been established to oversee delivery of and updates to the Climate Change Strategy. Councillor Huggins, Chairperson of the Climate Change Board, said:
"The Council recognises the urgency of addressing climate change and we're working hard to rise to this enormous challenge. I know it will be a difficult journey and that we'll need to act at an unprecedented scale and speed, but I'm encouraged by how much we've already achieved since establishing the Climate Change Board.
"The Council can't solve this on its own; every resident and organisation in Gosport will need to play their part. However, the Council does have a unique role in enabling action across the community. I'm confident that with continued cross-party cooperation, we'll be able not only to cut our own emissions, but also to help the whole Borough work towards carbon neutrality, become more resilient to the impacts of climate change, and reap the other benefits - to our health, wellbeing and prosperity - that the actions to achieve this will bring."
If you have any comments or suggestions about the work we're doing to address the climate crisis, please contact us.