Gosport Armed Forces Community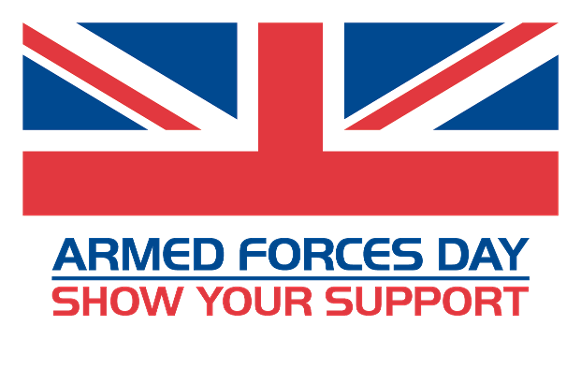 Gosport Borough Council is very proud to be recognised as a Forces Friendly Employer and to receive the Gold Award from the Defence Employer Recognition Scheme in 2020.
Commemorating the Queen's Service to the Armed Forces
As Sovereign, The Queen was Head of the Armed Forces, as well as being the wife, mother and grandmother of individuals who served in the Forces. Throughout her reign, she remained a committed and informed champion of the Army, Navy and Air Force, with a great empathy for the challenges faced by the Forces community.
"Having had members of my family serve in each of the Armed Services, I know only too well of the pride Service personnel take in their duty."
The Queen held over fifty ranks and appointments in the UK and Commonwealth Armed Service and much of her working life was taken up with visits to military bases and ships in the UK and overseas, meeting serving members of the Armed Forces and their families.
Information above taken from the Royal website here where the Queen's long histery of service and close connection to and support of the armed forces community is documented.
Armed Forces Week 2022
The Armed Forces Day flag was raised on Monday, 20 June across thousands of communities across the UK to signal the start of Armed Forces Week and the chance for communities to show their appreciation and support for the men and women who make up the Armed Forces community; from currenrtly serving troops to Service families, veterans, cadet volunteers and cadets.
A short ceremony was held at Falklands Gardens to raise the Armed Forces Day Flag at 10 am on Monday, 20 June, with the Mayor of Gosport Jamie Hutchison and representatives from HMS Sultan to his left, Warrant Officer 2 Baker and Executive Officer Bastiaens along with a detail from the base doing the honours while members of the armed forces community and general public observed. Mayor Hutchison invited everyone to show their appreciation and support to members of the armed forces community for their invaluable contribution and service. Photo by HMS Sultan Lead Photographer Pepe Hogan.
More information about AFD events near you and ways to show your appreciation of our armed forces community can be found here.
Veterans Outreach Service (VOS) Drop In Service
VOS provides a range of services for veterans and their partners of the UK Armed Forces and the Merchant Navy in Portsmouth, Hampshire and the Isle of Wight.
VOS can help with:
• Welfare advice - call the VOS office 0900-1700 Monday to Friday for advice on your situation and they can help you access a range of services.
• Wellbeing services - they run several peer-supported groups each week in various locations in person or online for you to take part in activities, lectures or days out with other veterans or just to have a brew and a banter.
• Telephone befriending service - a weekly chat with a VOS volunteer.
• Mental Health services - call the VOS office if you have a concern about your own or another's mental health. They can provide a triage service by phone and if necessary, further mental health assessment and treatment services.
• Substance Misuse support - VOS has its own Substance Misuse Recovery worker that can support you and your partner with any concerns.
• Monthly Drop-Ins - currently in Portsmouth and Newport, IOW. All of their services are available in one place on Drop-In day with no appointment necessary.
Contact the VOS Office to find out more.

Email: admin@vosuk.org Tel: 023 92 731767
Royal Maritime Club, Queen Street, Portsmouth, PO1 3HS
New Armed Forces Act Helps Ensure Fair Treatment
The Armed Forces Act 2021 will help ensure armed forces personnel, veterans and their families are not disadvantaged by their service when accessing key public services is expected to be in place in 2022.
The Armed Forces Act embeds the Armed Forces Covenant into law by introducing a legal duty for relevant UK public bodies to have due regard to the principles of the Covenant, a pledge to ensure the UK Armed Forces community is treated fairly. The Act should come into force by Autumn 2022.
Focusing on healthcare, housing and education, it will increase awareness among public bodies of the unique nature of military service, improving the level of service for members of the armed forces community.
The Act also builds on existing services such as the Defence Transition Services organisation which was established to assist those facing the greatest difficulties successfully transition to civilian life after leaving service. 800 GP practices in England are also now accredited as veteran friendly. This helps doctors provide extra support to ex-military personnel who may face additional challenges when returning to civilian life.
The Act also helps to deliver a series of improvements to the Service Justice System, ensuring personnel have a clear, fair and effective route to justice wherever they are as well as providing flexible working for Reserves and extend posthumous pardons for those convicted of abolished service offences.
Council Supports the Armed Forces Community
Gosport Borough Council recognises the contribution and sacrifice made by members of the armed forces community and the unique skills and attributes they bring to our workplace. We are proud to have signed the Gosport Armed Forces Community Covenant in 2012 with our local military and voluntary and community sector partners. We are equally proud to reaffirm our commitment as a forces friendly employer and organisation in 2020 by signing a refreshed pledge to the Armed Forces Covenant in celebration of Armed Forces Week and grateful to Captain Voyce, CO of HMS Sultan, for signing this covenant on behalf of the Ministry of Defence.


The Armed Forces Covenant is a voluntary statement of mutual support between a civilian community and its local Armed Forces Community. It is intended to complement the national Armed Forces Covenant, which outlines the moral obligation between the Nation, the Government and the Armed Forces, at the local level. Read the Council's Armed Forces Covenant GBC Armed Forces Covenant 2020 (PDF) [193KB]
The Solent Armed Forces Covenant Partnership

Gosport, Isle of Wight, Portsmouth and Southampton councils have come together to adopt a partnership approach to delivering the Covenant within the Solent region of the wider county of Hampshire. The aim of this partnership is to:
raise awareness among serving personnel, reservists and veterans of the support they can receive from local authorities;
provide a broader understanding of the needs of the local veteran population as well as serving personnel during transition to civilian life;
evaluate the impact of these initiatives.
The Solent Armed Forces Covenant Partnership Board has represented Gosport, Portsmouth, Southampton and the Isle of Wight councils since 2017. This Board provides strategic governance for local delivery of the Covenant alongside the Hampshire Civil Military Partnership Board and the Isle of Wight Civil Military Partnership.
We estimate that 76,207 adults and children are part of the Solent Armed Forces community. The Solent Armed Forces Covenant Partnership have worked together to understand the needs of this community and produced a 2018-08-29 Solent Armed Forces Covenant Needs Assessment (PDF) [4MB] .
This info graphic provides some headline information from the needs assessment.
2018-10-01 Covenant infographic (PDF) [1MB]
The Covenant focuses on helping members of the Armed Forces Community have the same access to government and commercial services and products as any other citizen. This support is provided in a number of areas including:
education and family wellbeing
accessing healthcare
SOLENT RECOVERY COLLEGE
Mental Wellbeing Courses online for Veterans, Military Serving Personnel and Families
SRC at the University of Portsmouth offers a range of courses available via Zoom for members of the armed forces community in Gosport. You must be registered before taking any course. For more information or to register, contact SRC on 07971 348 555 Monday -Friday or SRC@solentmind.org.uk
FirstLight Trust Hub in Gosport
The FirstLight Trust Hub, 68 High St, Gosport, supports veterans of the armed forces and emergency services for support and activities.
Contact Sam Fry for support and MoneyWatch on 07881232597 or sam.fry@firstlighttrust.co.uk
Contact Riah Bunce on 07388954967 or riah.bunce@firstlighttrust.co.uk for activities: Tuesday- allotment 10am- 12.30pm, Model club 1-3 pm; Wednesday -coffee and chat 10am-Noon and 2pm- 4pm . Every 3rd Wednesday a walk at 1pm, Virtual Cookery class 3- 4.30pm; Thursday Cycle Club 10am-Noon; Monthly Quiz the last Thursday for every month 6.30-l 7.45pm
New Mental Health Service for UK Armed Forces Veterans
The Veterans' Mental Health High Intensity Service (HIS) and will provide crisis care, therapeutic inpatient support; help with coordinating care across organisation and support and care for family members and carers as appropriate also. HIS will first run as a pilot service to ensure it is right for veterans. The Solent NHS Trust will pilot the service from November 2020 in the South East.
HIS will be in addition to the Veterans' Mental Health Transition, Intervention and Liaison Service (TILS) and the Veterans' Mental Health Complex Treatment Service (CTS). NHS Mental Health Services can still be accessed by contacting the service directly, or by asking a GP or a military charity to refer you.
To contact the service directly:
· in London or the southeast of England, call 020 3317 6818 or email cim-tr.veteranstilservice-lse@nhs.net
To access these services, you must:
· be a resident in England
· have served in the UK armed forces for a full day
· be registered with a GP practice in England or be willing to register with a GP
· provide your military service number or another acceptable form of proof of eligibility
Social housing to be prioritised for veterans
New measures to ensure access to social housing is improved for members of the Armed Forces, veterans and their families have recently been announced by Housing Minister Christopher Pincher.
The government has set out how councils should ensure members of the Armed Forces and veterans who need support with their mental health, because of conditions such as Post Traumatic Stress Disorder, are given the priority for social housing they deserve.
New measures also mean former spouses or civil partners of serving personnel will be given extra support when applying for social housing. They will be exempted from rules requiring them to be a local resident before being given social housing in the area to ensure they are not disadvantaged when applying.
For more information contact the housingadviceteam@gosport.gov.uk or ring 023 9254 5476
The Council is working with our partners and members of the Armed Forces Community to develop a local Covenant offer which complements and builds on the National Covenant Pledges. If you want to find out more about this work or have a question about local delivery of the Covenant, please email mandy.baggaley@gosport.gov.uk
The Armed Forces Community in Gosport
Below are some interesting facts about the Armed Forces Community in Gosport:
Gosport has five military sites where approximately 1,800 serving personnel are based.
Gosport is home to five cadet units.
1,384 members of the Royal Navy have registered a home address in Gosport.
There are a further 807 service accommodations across eight sites in Gosport with a capacity to hold a total of 2,324 people.
4,771 veterans have registered Gosport as their home address for the purposes of forces pension and or compensation payments in 2020.
As of January 2019, there were 1,172 service pupils in Gosport, approximately 10.8% of the total schoolaged population in the Borough.
6% of Hampshire's total population are ex-serviing members of the armed forces, with Gosport having the highest number among all Hampshire Districts in 2020.
The Veterans Gateway
The Veterans Gateway, launched in 2017, can put veterans and their families in touch with the organisations best places to help with the information, advice and support they need, from healthcare and housing to employability, finances, personal relationships and more. Information about local services is available on the gateway website and will be regularly updated. Find out more on Veterans Gateway website.
Adjusting to Life Outside Resource Available Online
An e-learning resource to support service leavers, veterans and their families going through the adjustment process of living outside of the Armed Forces is now available on the Armed Forces Covenant website.
The package addresses the issues that are commonly experienced in the lead up to, and after leaving the Armed Forces, including acquiring accommodation, employment, finances, health, as well as personal, family and social adjustment.
Mesothelioma and Veterans
In the past the armed forces relied heavily on asbestos in many settings, buildings, vehicles, aircraft, and especially ships. The low cost and availability, as well as its ability to fireproof and resist heat, made asbestos an ideal material for many uses.

As a result of this, veterans now suffer from mesothelioma at higher rates than most other demographic groups. Nearly a third of mesothelioma cases diagnosed are in military veterans. Since mesothelioma spreads rapidly and because it takes decades to develop symptoms, most veterans get a late stage diagnoses.
Mesothelioma.net provides veterans with updated information on the latest treatment, 24/7 online support, financial aid, and much more.

Mesothelioma Hope provides free educational resources, support, and information to anyone that may have questions about asbestos-related diseases.
Show Your Support
Gosport Borough Council proudly supports the Armed Forces Community as a signatory to the Armed Forces Covenant. The Armed Forces Community can contribute real value to a business or organisation, both as employees, who bring a wealth of skills and experience, and as customers. We invite local businesses and organisations to join us.
If you are a business or an organisation, you can find out you can show your support here.
Perks for the Armed Forces Community
The Defence Discount Service is the only official Ministry of Defence discount service for the armed forces, veterans and defence community. There are loads of online discounts available free and for a small fee you can also get a Defence Privilege Card, good for five years, which entitles you to a discount when presented in a wide range of High Street shops. Find out more here.
Tickets for Troops is a charity whose aim is to to provide those who serve in HM's Armed Forces, those medically discharged post 2001 and the next of kin of those who have passed as a result of their service, with the opportunity to attend a variety of sporting, musical and cultural events with their friends and family when they are off work. The charity provides free tickets, though some restrictions apply. Find out more here.
Forces Discount Offers is a UK based website offering discounts and deals to Forces personnel, Veterans and Cadet Forces. Find out more here.