Cycling in Gosport
A flat terrain and a good network of cycle tracks and lanes makes it easy to cycle in Gosport. There are interesting places to visit including 6 miles of accessible coastline stretching from Gosport Town Centre to Lee on the Solent, where you can relax and enjoy the best views of Portsmouth Harbour, the Solent and the Isle of Wight.
The ferry from Portsmouth carries bicycles and leads straight to the Town Centre and the Millennium Walkway which provide excellent views of the Spinnaker Tower and the many ships and boats within Portsmouth Harbour.
Gosport has a strong naval history and a trip south across Haslar Creek past the marinas leads to the Royal Navy Submarine Museum where you can board a World War II submarine and experience the history of life under the sea. To the north of the town centre, at Priddy's Hard, you will find the Explosion Museum, which tells the story of naval firepower from gunpowder through to missiles. On route you pass Royal Clarence Yard, which in the early 1800's was the country's premier naval victualling yard, and the Forton Lake Bridge opening bridge which was built exclusively for cycles and pedestrians.
The old Gosport Fareham railway line provides over 2 miles of quiet cycle track leading to the Holbrook Leisure centre in Bridgemary. Another old railway line also leads from the town centre across Little Anglesey Lake and past the Georgian Crescent to Stokes Bay. Here you can rest at a beach side café and watch the ships and pleasure craft on the Solent, enjoy the extensive pebble beach and open spaces, or walk the promenade and paths eastwards to Fort Gilkicker.
From Stokes Bay you can cycle west to Lee on the Solent - a traditional seaside town offering clean safe bathing, a childs splash park, grassy cliff tops, a long promenade and a shopping centre with shops, cafés and restaurants.
And remember, maintaining and using a bike costs much less than owning and running a car!
Protect your cycle, protect your self - top 10 tips
Don't leave your cycle unlocked - even for a minute.
Take quick-release parts with you.
Don't leave valuable bikes in public places for a long time - even when locked.
Lock the frame to something solid and use a good quality lock.
Ensure the lock is off the ground.
If you have a garage, use it and lock it.
Note your bike make, model and frame number.
A photograph of you and your bike together will help to prove ownership.
Security code your bike with www.retainagroup.com
Visit the property office at Fratton. They might have your stolen cycle !!!!
Highway Code for Cyclists
Remember - the Highway Code applies to cyclists as well as other road users.
Cycle signs
It is illegal to cycle on the pavement, unless signs say otherwise.
You must obey all traffic signs and signals.
Please refer to The Highway Code for further detailed information.
Here is a selction of the most commonly used road sign for cyclists.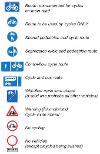 Bicycle lights
When do I need to use lights?
When riding your bike on a public road between sunset and sunrise, pedal cycles must have clean and correctly working lights and reflectors fitted.
What lights and reflectors do I need?
The minimum requirements are :-
Front Lamp: a white light, marked BS6102/ positioned centrally or offside, up to 1500mm from the ground, visible from the front.
Rear Lamp: a red light, marked BS3648 or BS6102/3 positioned centrally or offside, between 350mm and 1500mm from ground, at or near the rear, visible from behind.
Rear Reflector: One coloured red, marked BS6102/2 positioned centrally or offside, 350mm to 900mm from the ground, at or near the rear, visible from behind.
Pedal Reflectors: Four are required, coloured amber and marked BS6102/2
Wherever a British Standard (BS) is referred to, an equivalent European standard is also permitted eg those marked with a 'K-', 'CH-' or 'Z-' number should be OK.
Cycle trailers need a rear lamp and reflector; sidecars need a front lamp too.
Additional lamps and reflectors need not comply with any standards but they must be the correct colour and in an appropriate position.
Are Dynamo powered and flashing LED lights legal?
Yes, lights are not required when the cycle is stationary or being pushed along the roadside. However Dynamo systems that incorporate back-up 'standlight' features are safer.
It is legal to ride a bicycle with only flashing lights that are brighter than 4 CD and flash between 60 and 240 flashes per minute. If they can also be set to constant mode they must meet BS 6102 or EU equivalent.
Is it important to follow the rules?
The police can enforce the details of these rules though they may be content as long as you have a conspicuous front and rear light. It should however be remembered that if you are involved in an accident at night and your lights did not fully comply with the regulations, this may be used against you or to dispute any claim you may try to make.
Cycle shops in Gosport
There are a good range of retailers in Gosport offering new bikes, accessories and servicing.
The Gosport Business Directory provides information on the goods and services provided by local businesses. This free online facility means you can search by company name, location or business activity. Results include full contact details and links to company websites (where available).
Useful contacts
Gosport Borough Council -
Traffic & Transport Liaison Officer
Tel: (023) 9254 5483
planning@gosport.gov.uk
Hampshire County Council -
Transport Team South
Tel: 0300 555 1388 (8:30am to 5pm, Monday to Friday)
transport.team.south@hants.gov.uk
Hampshire County Council -
School Travel Planning
Tel: 01962 845638
www.hants.gov.uk/educationandlearning/schooltransport
Tourist Information Centre -
Gosport
Tel: 023 9252 2944
tic@gosport.gov.uk
Gosport Ferry
Tel: 023 9252 4551
E-mail:info@gosportferry.co.uk
www.gosportferry.co.uk
Sustrans - promoters of national cycle networks
Tel: 0845 113 00 65
E-mail:info@sustrans.org.uk
www.sustrans.org.uk
Cyclist Touring Club (CTC) -
National Cycling Organisation
Tel: 0870 873 0060
www.cyclinguk.org
A Cycle route map of Gosport (PDF) [3MB] is available here.
This map is one of a series of 4 cycle route maps covering the Gosport, Portsmouth, Fareham and Havant area. Maps of the neighbouring Districts are available from the following links to help you plan longer cycle trips and take advantage of available cycle lanes and off road routes: